25th April 2017
Featured property St Cuthbert's House has won the top award in the Bed & Breakfast category of the prestigious VisitEngland Awards for Excellence 2017, repeating their success in the same competition in 2014.
The awards were handed out at the glittering Awards Ceremony at the Waldorf Hotel in London on Monday April 24.
Owners Jeff & Jill Sutheran said they were "honoured and delighted" to receive the Gold Award for the second time in three years.
VisitEngland's Awards for Excellence recognise and celebrate the best businesses in English Tourism.  St Cuthbert's House has been amongst the winners at the VisitEngland national Awards in four of the last five years, and by winning Gold in the B&B category twice, has firmly established itself as one of the leading lights amongst Tourism businesses in England.
VisitEngland Chief Executive Sally Balcombe said: "The Awards shine a spotlight on an industry driven by the highest-calibre people and organisations who deliver unforgettable experiences for visitors, raising the profile of England as a world-class destination and driving the economic benefits of tourism across the regions."
 "Awards for Excellence winners exemplify outstanding tourism talent and distinguished businesses throughout England. We received over 600 truly impressive applications this year and there's absolutely no doubt that the winners represent the very best in the industry. I'd like to congratulate St Cuthbert's House on this fantastic achievement."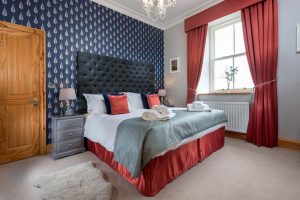 After a long and painstaking restoration and conversion of the disused former church – which carefully integrated many original features like the pulpit and communion table – St Cuthbert's House opened for business nine years ago, providing high-quality guest accommodation in six ensuite bedrooms.  It has built a strong reputation, bolstered by its 5-star grading from VisitBritain and recommendations on peer-review websites like Tripadvisor.
Owner Jill Sutheran said: "It's a real honour for us to win Gold at these National Awards for the second time.  There were some fantastic tourism businesses from around the whole country in the mix, and to be judged as worthy of the top Award again is just wonderful.  It's good for our business of course, but we're also pleased to be flying the flag for the Northumberland coast as a wonderful place to visit!"
Husband Jeff added: "We're delighted that our determination to provide an unforgettable guest experience in this amazing area has brought us this national Award, and positions us firmly amongst the very best in the whole country."
For more information on St Cuthbert's House please visit www.stcuthbertshouse.com