30th April 2018
Getting married is undoubtedly an incredibly exciting time. But it also can also be very stressful with the myriad of decisions that need to be made whilst at the same time trying to keep everyone happy. Choosing where to actually say 'I do' is probably one of the biggest decisions you will make (along with the dress of course!) and with so many beautiful wedding venue's around where do you begin? Well, if you are one of the increasing number of people who are choosing to say their nuptials in a more intimate setting, we have a selection of beautiful properties and wedding venue's to choose from that will make your day even more special.
Combermere Abbey
Say 'I do' at the stunning Combermere Abbey situated on the border of Shropshire and Cheshire. The venue can be exclusively yours on your wedding day, with a series of stunning locations for your ceremony, wedding breakfast and reception. If you opt for a civil ceremony, you can say your vows in the Edwardian Glasshouse with views over the stunning gardens as your guests witness your big moment, or marry in the fruit tree maze if the weather is warm. For traditional religious ceremonies, Combermere Abbey is surrounded by picturesque village churches for your ceremony, followed by the reception at the Abbey.
The Old Rectory
The Old Rectory in Hastings, is licensed to host weddings and civil unions and is the perfect location if you are seeking an intimate boutique wedding venue. Ceremonies can take place in the elegant lounge or on the terrace within the delightful garden. It can cater for up to 50 guests with a wedding reception within the house, or 80 guests with a Capri Marquee in the walled garden. The team pride themselves on providing a personalised service to ensure that your very special day is exactly as you want it to be. Whether it's a four-course sit down meal, a barbecue in the grounds or a luxury high tea, they will take care of the details so that you can just relax and enjoy the whole event.
Arden House
Situated in Shakespeare's birthplace, there are fewer more romantic places to say 'I do' than the Heart of England. With the emphasis firmly on luxury, Arden House offers a calm and inviting place to relax in, a special place for sharing experiences and creating memories. With ten elegantly designed bedrooms, Arden House boutique bed and breakfast townhouse can be hired exclusively, offering the luxury and privacy you need your wedding day. Arden House can tailor your wedding package specifically for your needs and offer a formal wedding breakfast for up to 20 guests or a more informal buffet for up to 30 guests. Your wedding party can enjoy drinks on the terrace of their sister hotel, the Arden Hotel, as the Avon gently flows by, before returning to your own unique reception at Arden House.
Cley Windmill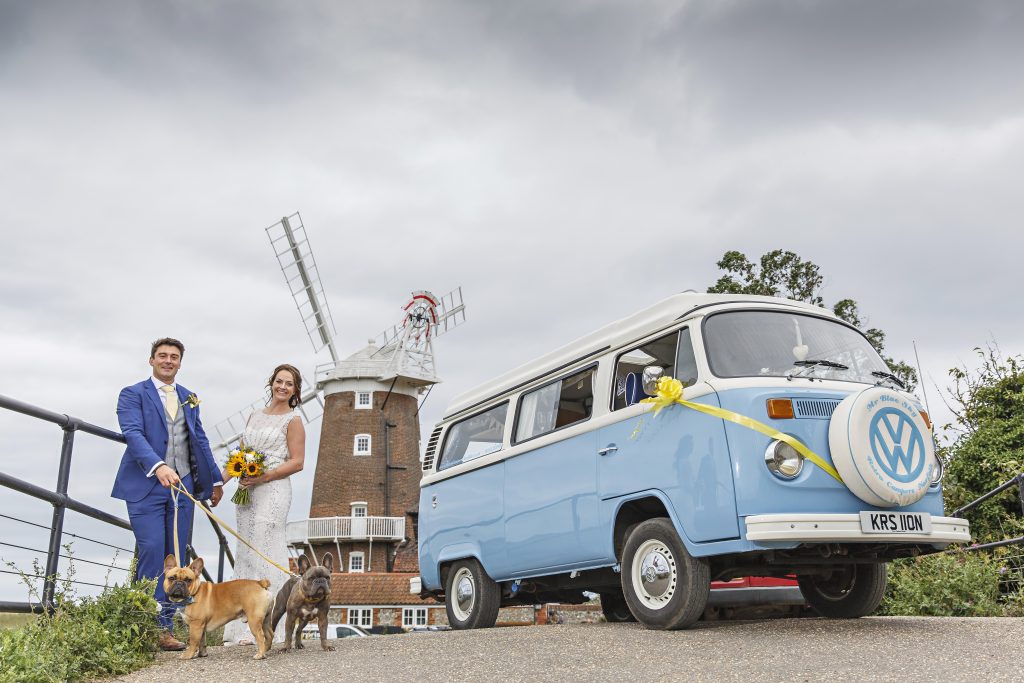 Cley Windmill is a totally unique setting for your wedding or civil ceremony, which take place in the beautiful round Sitting Room.  For a very intimate affair Cley Windmill is perfect, as its licence only allows it to host 22 people, including the bride and groom in the ceremony room. If you would just like to enjoy the unique experience of having your ceremony in a Windmill, but are planning a larger reception elsewhere, the team can accommodate this, allowing you time after the ceremony to enjoy a glass of champagne and canapés, which will be served in the Windmill Dining Room and to take photographs. They can also provide tea or even a Norfolk Cream Tea, as well as a Wedding Breakfast, depending on the time of year and diary commitments. Wedding parties can opt to take over the Windmill and by booking all of the B&B rooms and the self-catering cottage, which, in all, accommodate 18-20 guests.
Pentillie Castle

Pentillie Castle is a truly special place steeped in history, and can be exclusively yours for your wedding day. The 300 years of family history, the spectacular location on the Tamar River and the fantastic team, all combine to make your day truly memorable. Pentillie Castle is a grand, private home, allowing you the freedom and flexibility to plan the wedding of your dreams. There are a variety of spaces licensed for civil ceremonies, along with terraced gardens and large reception rooms in which to celebrate with family and friends. The photo opportunities are also pretty special as you have 55 acres of woodland gardens at your disposal. All in all Pentillie offers the perfect wedding venue and backdrop for you big day!