21st June 2018
In the third of our series where we personally introduce you to some of the owners of our fabulous properties, this month we are off to meet Andy and Julian, owners of the multi-award winning The 25 in Torquay, Devon. Torquay is a great place to stay, and effortlessly bridges the gap between traditional British seaside tourism and a modern cosmopolitan seafront destination. A stop on many major stage and theatre tours, you will be spoilt for choice when it comes to evening entertainment along with a wide range of restaurants to pick from. If you are seeking a more laid back vibe, Torquay has a fabulous line up of pubs, wine bars and cocktail lounges to while the night away.
BB: The 25 has been on the receiving end of multiple awards. What is your winning formula that makes The 25 so special?
There's no one thing, I think it's a combination of lots of things. Initially you have to have the basics right – spotlessly clean, super comfy beds and a great breakfast offering.
Then the hospitality bit needs to be excellent so everything from your website to email replies, your welcome, right through to their check out needs to be friendly and attentive, but not overbearing.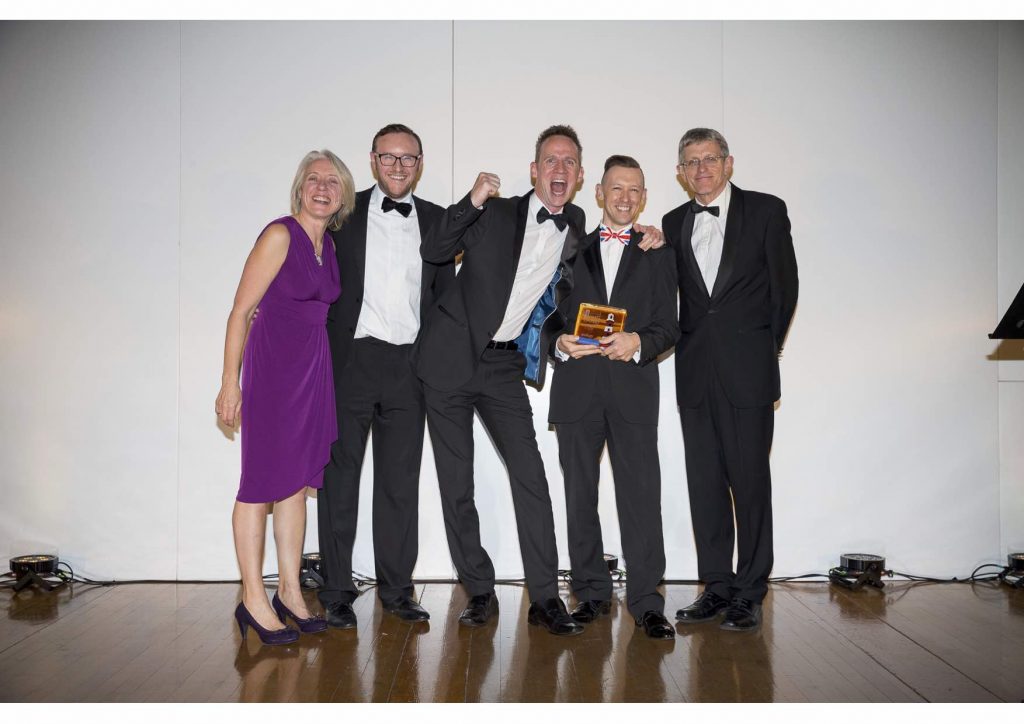 Only once you've got these right can you differentiate yourselves from the competition and make your place special.  That might be in a whole host of ways.  For us its the little touches and thoughtful extras – guests often comment that we've thought of absolutely everything.  Then there's our homemade products like the baked treats for the guests to come home to each day, the yogurts, granola, chocolate brownies on arrival and so on.
When you take the product as a whole, The 25 is often like no other place many guests have ever stayed, and they'll benchmark all future places they stay against us.
BB: You previously ran a successful Country House in Wales. What prompted the move to Torquay?
We were just outside Caernarfon for nearly eight years.  It was a beautiful spot with the Snowdonia mountains on the one side and the Menai Straits on the other.  However, it was a larger operation with more rooms, a restaurant, 15 acres, self-catering cottages and we did weddings and events too.  With only a very small team, it meant we worked late every night in the restaurant / kitchen and rarely took time off.  We wanted to move to somewhere smaller and stop offering evening meals so we could have our lives back again.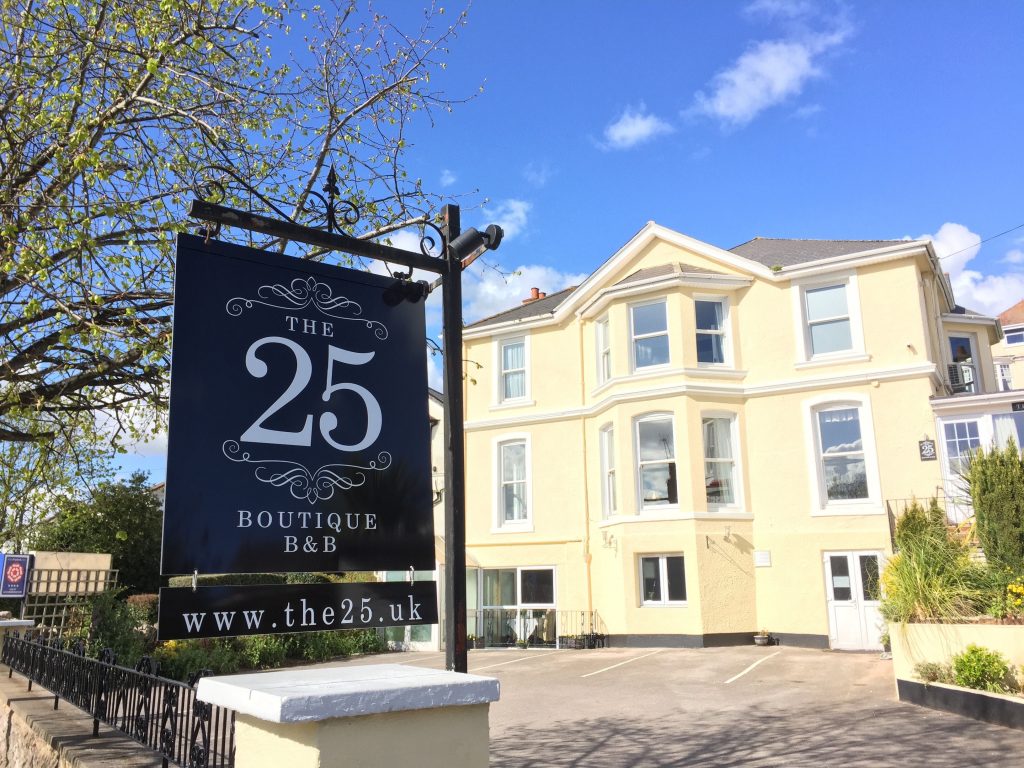 Torquay was purely chance and we could have ended up anywhere.  We were looking countrywide.  It needed to feel right from the moment we walked in, have the ability to create five or six great sized bedrooms and bathrooms, and be in a tourist area.  It also needed to be within walking distance of great restaurants.  Torquay fitted the bill and we love it here.  We can walk everywhere and it's a stunning place to live, particularly in the sunshine, which being on the English Riviera, we get our fair share of.
BB: Torquay has experienced a bit of a reinvention recently. Tell us about the area and what guests can look forward to when they stay?
Torquay reached a fork in the road, like many established seaside destinations where it was once very posh and the place to go in the early twentieth century, but slowly as foreign holidays took over, decline set in.
Luckily Torquay decided not to go down the route of bargain holidays, the bucket and spade brigade and the stag do market and instead decided to reinvent itself as an upscale modern resort.  There has been a lot of investment over the years and there's still plenty of projects on the go and forthcoming.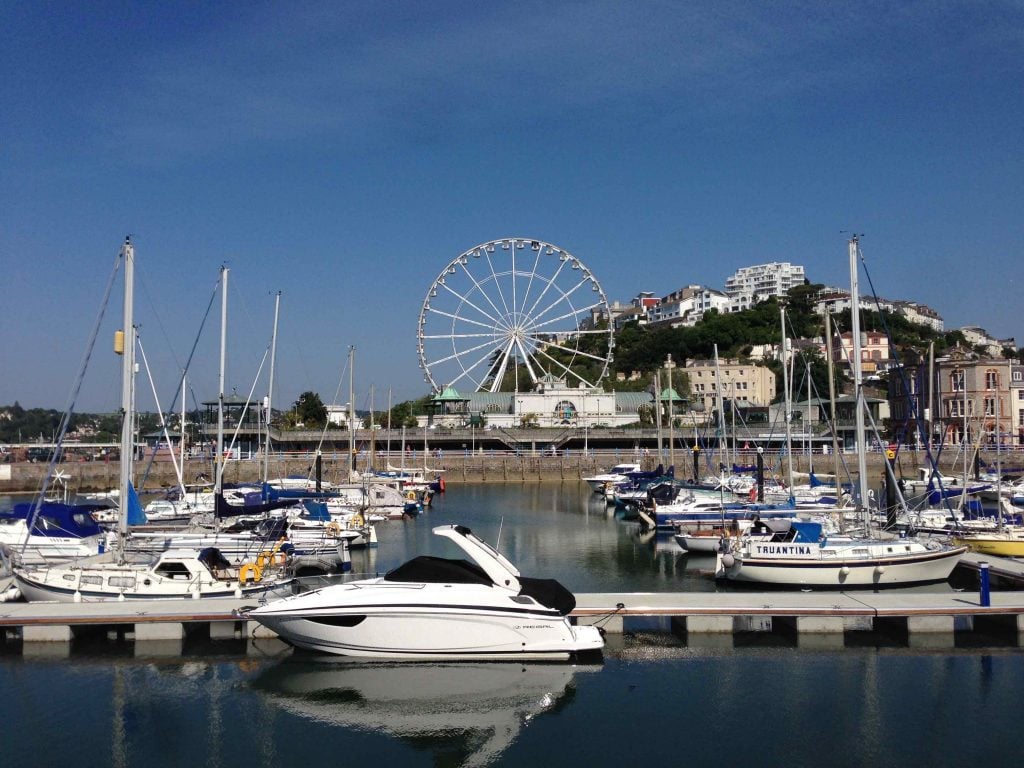 Torquay has a lovely marina with million pound yachts, all kinds of excellent restaurants from local fish restaurants (Brixham harbour is close by) to Michelin starred, trendy bistros to intimate family run places.
It's also got a vibrant night life with trendy cocktail bars, plenty of places offering live music, nightclubs, a quaint pub over 400 years old and a theatre.
We love Torquay with its temperate climate and palm trees (hence it's known as the English Riviera).  Many of the bars and restaurants have outdoor seating and it's lovely on a sunny day to be able to enjoy the sun, overlooking the sea, enjoying a G&T only a ten minute walk from our door.
BB: How do you and Julian define your roles as it has not gone unnoticed that you enjoy a spot of baking!
We kind of fell into the roles we have naturally.  I tend to cover more of the admin and accounts side of the business which means I'm in the reception office more, and so probably do more of the meeting and greeting of guests.  I also do the bulk of the bedroom cleaning.
Julian's main task is cooking breakfast, but he also has the vital task of supplies.  He makes sure there's food in the cupboard, makes all the orders, does all the shopping, runs all the errands, and looks after all the maintenance too.  He's also the techie one so he's the one who makes sure the wifi, TVs, voice activated features, mood lighting etc all work.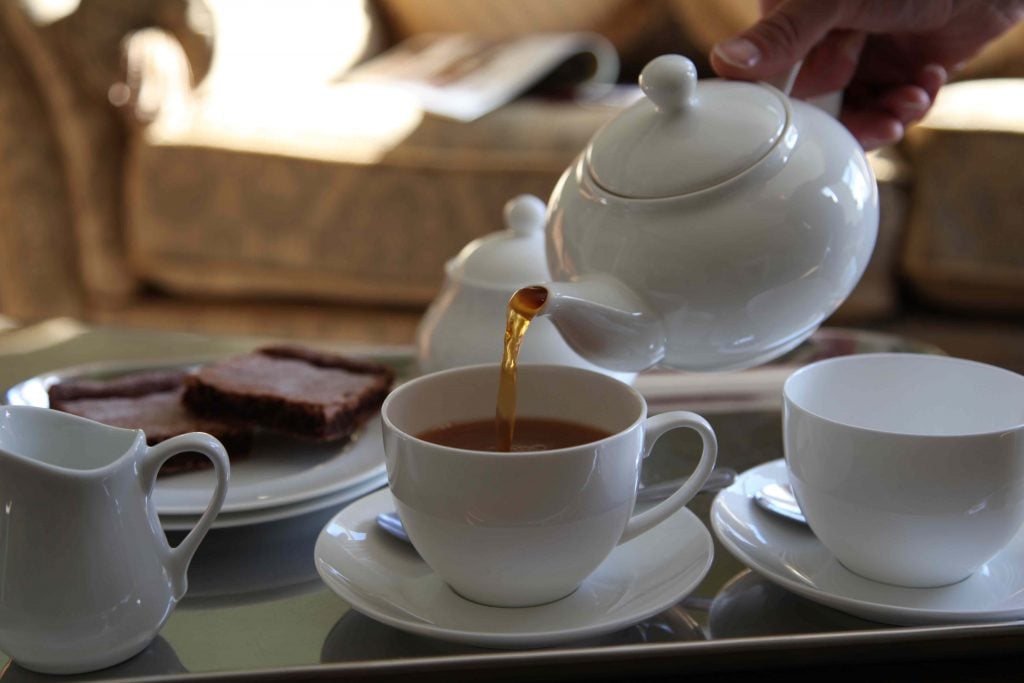 I do a fair bit of baking (at our last hotel we had a restaurant and I used to chef in the evenings and cater for the weddings so I get off quite lightly now).  I make the daily treats for the bedrooms, along with my now famous chocolate brownies which our lucky guests can enjoy with their complimentary welcome drink on arrival.
BB: What is the best thing about running a B&B?
It's hard to pick one individual thing as there's so many great things.  We get to live in a big house by the sea and have a great life taking time off when we want.
One massive advantage compared to my last job in customer services is that we can just make decisions straight away.  If we come up with an idea for an improvement, we discuss it, make a decision and implement it.  We don't have to wait for the next management meeting to discuss it, put a proposal together, then get budget approval.  I also don't miss all those staff appraisals I had to do.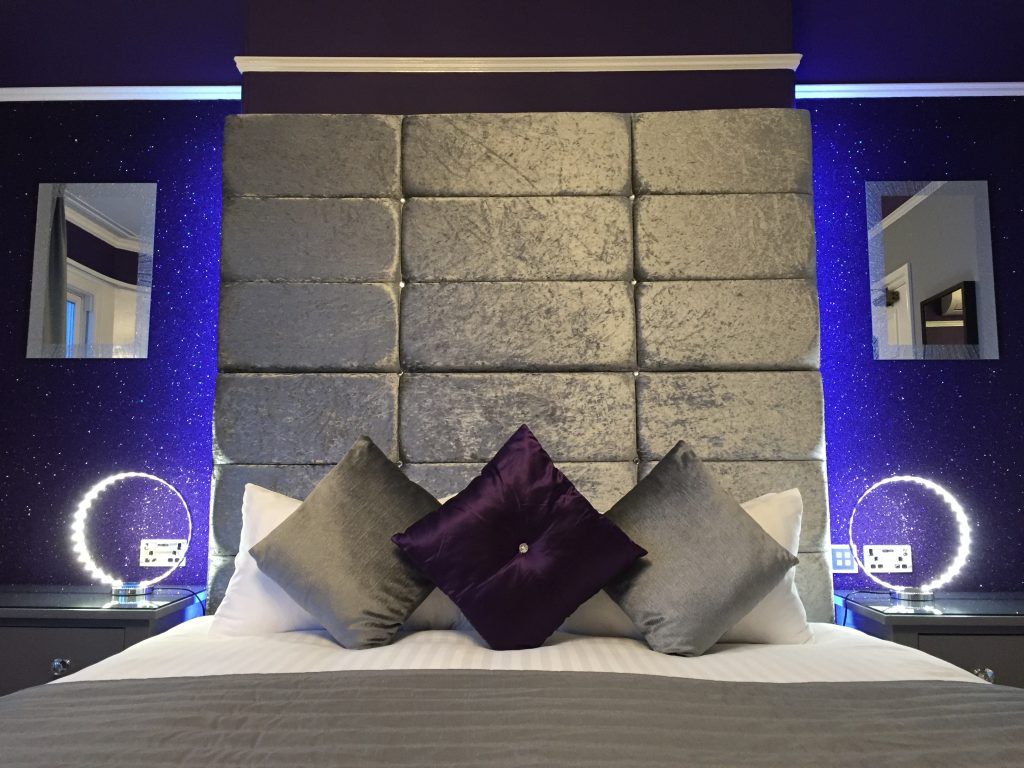 We meet so many interesting people from all over the world and instead of only speaking to unhappy people in my role prior to hospitality, I now only speak to happy people.  It's great to know you're helping make happy memories.
BB: You've launched your own training programme for aspiring Boutique B&B owners. What would your single most important piece of advice be?
It's impossible to pick just one piece of advice – my course is jam packed with advice over the two days.  I suppose my general advice would be to do your research – and attend my course!
So many people go into the industry without doing their research.  They buy the wrong property or in the wrong location, or don't know the best way to ensure they can get finance.  Many don't realise how much work is involved or think about how they will run the business day to day.  In today's review led society, it's no longer good enough to learn as you go along, you need to hit the ground running.
BB: Last but not least, how would you sum up a stay at The 25 in three words?
Luxury, unique, memorable.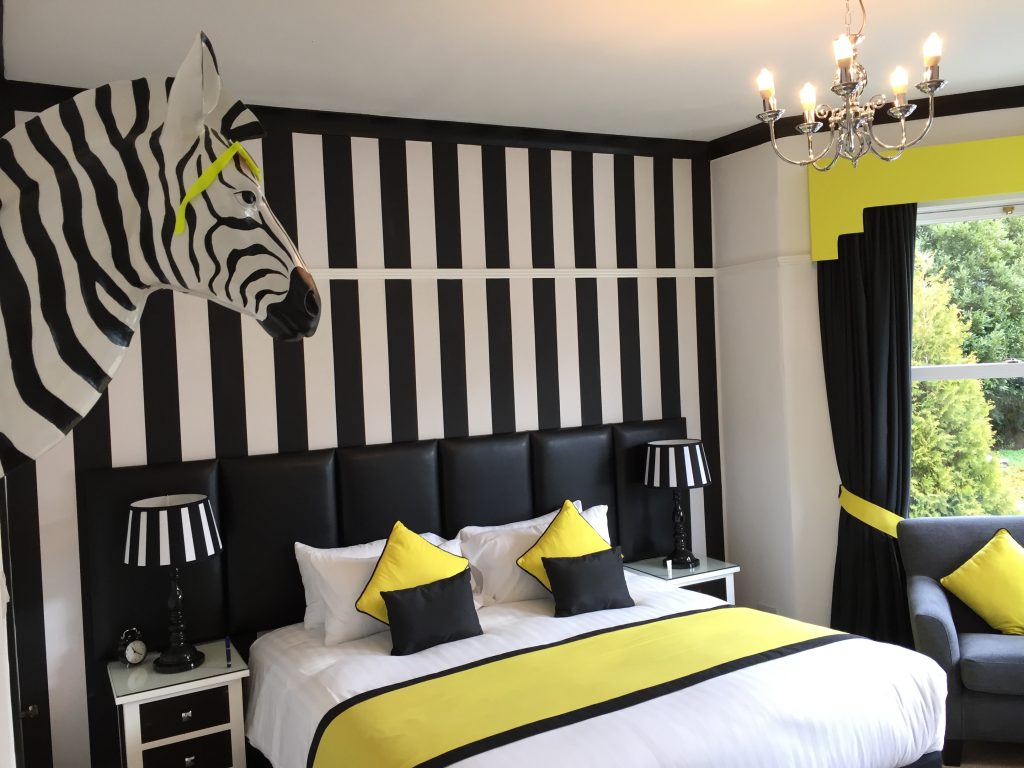 To find out more about The 25 click here