17th April 2018
As part of a new series to personally introduce you to some of the fabulous owners who make a stay at one our featured properties so special, we're off to meet Neal and Jason, owners of Highcliffe House in Lynton, North Devon. As the name suggests, Highcliffe House occupies a lofty, cliff-top position above the twin towns of Lynton and Lynmouth. Located within the Exmoor National Park, this 5 star adults-only boutique B&B is surrounded by rugged countryside and a short hop from some of North Devon's most magnificent beaches.
What did you both do before running Highcliffe House?
Neal worked as a Fashion Buyer for over 20 years, working with many luxury brands such as Harrods, Burberry, and House of Fraser.  He has a keen eye for detail and impeccable taste with a deep passion for great quality and luxurious products.  His work took him to places all over the world from Europe, to the Americas and Asia Pacific.
In his early life, Jason worked in hospitality industry for many years in hotels in both England and overseas.  The corporate side of his life saw him living and working in China and Hong Kong for over 10-years where he was a Director of a successful Packaging Graphics company.  The company produced packaging for leading stores like; Tesco, Sainsburys, Morrisons, Wilko, Hamley's Toys and Superdrug.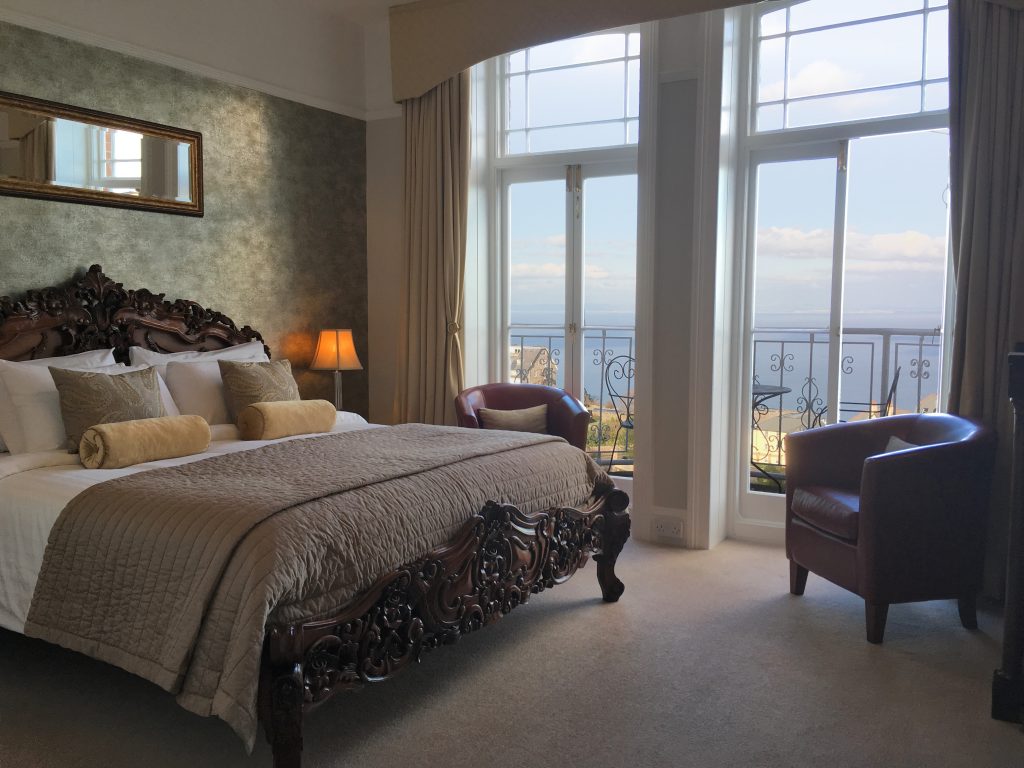 What made you take the plunge and start running a Boutique B&B?
We were tired of working for large businesses in big cities and getting very little time to relax and enjoy time together.  At every given opportunity we would jump in the car and drive to the South West coast. We both love the coast, and for decades, Neal had dreamed of living by the sea in a cliff top house surrounded by rugged coastline. I was inspired to live by the coast after watching an old black and white movie starring Rex Harrison movie called 'The Ghost and Mrs Muir'.
The actual moment to take the plunge was decided whilst on a Greek vacation in 2014.  We were musing over our dreams and thoughts of the future when the idea to move to the coast was born. The next steps were more practical, in deciding where and how best to make a living.  Many discussions later we'd concluded that buying a converted farm with holiday lets would be a great idea. We were quite happy pursuing that path, happy that was until we viewed Highcliffe House.
It was out of sheer curiosity that we arranged the viewing of Highcliffe House.  I remember the moment we first walked through the door we fell totally silent.  We stayed silent with each other for the entire viewing and remained silent until we reached the M5! When we finally broke the silence, it was in that moment when our whole lives changed.  There were so many questions. Could we do it? Should we do it? Can we make it work? It was after a lot of soul searching and tireless planning that we were able to make it happen. Two years later we're living in Highcliffe House, in what we think is the most beautiful coastal location in the world.
What makes Highcliffe House so special?
There's a complex combination of ingredients that make Highcliffe House so special; from the breathtaking views, the commanding coastal location to the sophisticated decoration and serenity as you walk through the door.
Highcliffe immediately overlooks Lynton & Lynmouth, with far-reaching views over the Bristol Channel and along the Exmoor coastline and they're completely captivating.  The panoramic vistas from each room are so mesmerising, it's almost a challenge to get moving and start your day.
The house commands respect in the most unassuming way, it's an almost magical blend of tranquility and awe. We felt it when we walked through the door for the first time and it's why we had to live here. Throughout the decades each custodian of Highcliffe House has added to its heritage, either with gorgeous antiques, huge dramatic beds or sophisticated decoration. We believe it's this rich heritage which gives Highcliffe an aura of peace and serenity when guests walk through the doors.  You can't help but switch off, wind down and take that long deep breath you've been longing to take.
What do you enjoy most about being a B&B owner?
The easy answer would be 'meeting people' but it's the whole lifestyle. I think it needs saying that we love being B&B owners at Highcliffe House.  I'm not sure another B&B could ever captivate and motivate us the way this house does.  It provides the most amazing canvas for us to express our love of detail, passion for hospitality and the freedom to explore the great outdoors.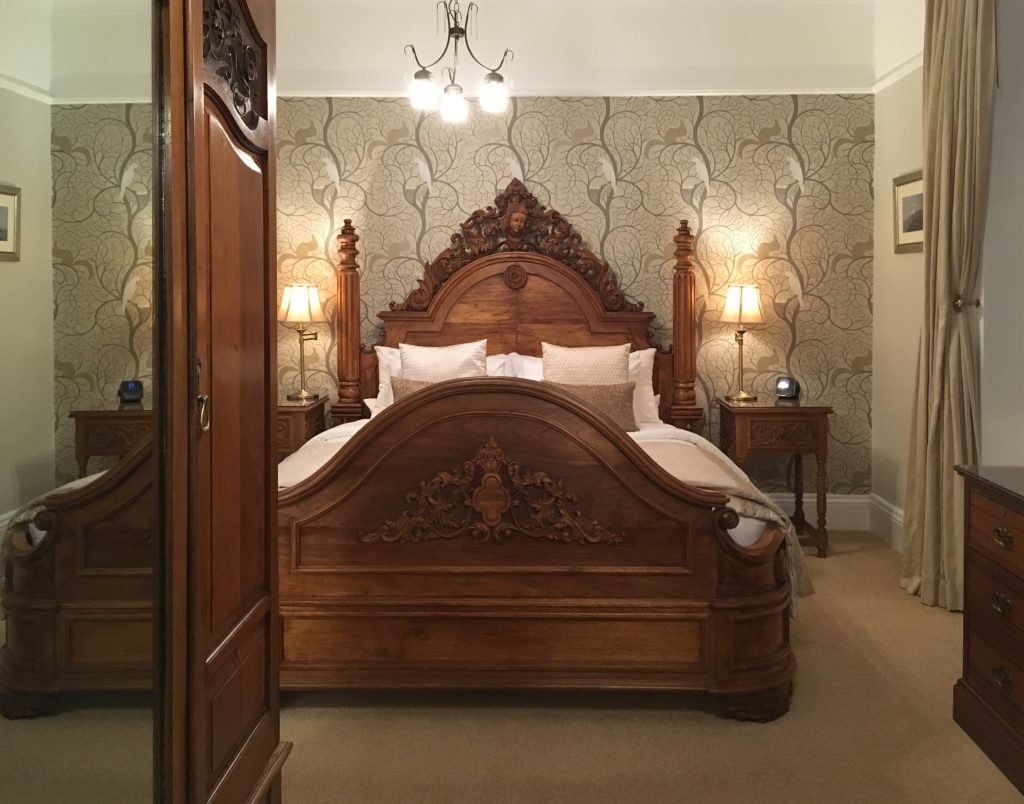 Tell us about the surrounding area and nearby attractions?
There's just so much, where do I start? The Exmoor National Park is probably one of the most unique and diverse places in England. It boasts some of the highest cliffs, a dramatic and rugged coastline, lush wooded valleys with cascading rivers and vast open moorland.  Lynton and Lynmouth are both quaint Victorian towns, joined by the famous Cliff Railway, one of the steepest and longest funicular railways in the world.  Lynton is nestled on a cliff some 500ft above Lynmouth, which offers spectacular views.  Just a few minutes walk from Lynton is the incredible Valley of Rocks, a dry valley with an almost other-worldly landscape. Lynton is also a perfectly situated along the South West Coastal Path which is some 630 miles long.  Maybe we're a touch biased, but we think that Exmoor offers the most exhilarating and dramatic sections of the coastal path.  For lovers of river walks, the walk from Lynmouth to Watersmeet is probably as romantic and lush as it gets.  Watersmeet and the Doone Valley are simply stunning with beautiful cascading rivers flowing through an almost elven landscape – no wonder they were the topic of so many famous writers and poets. If you're a walker, nature lover or just love the great outdoors like us, then Exmoor is the place for you.
Do you both have clearly defined roles?
In short, yes. It was essential that we defined our roles before we embarked on such a life-changing project.   We actually began defining our roles along the M5 from Lynton to London, after the very first viewing. From a broader view, Neal takes care of catering, interiors and maintenance and I look after housekeeping, marketing and exteriors. However, it's vital that we coordinate with each other to ensure opportunities and areas for improvement are not missed.  Our corporate backgrounds taught us to be detail-orientated and organised as individuals and for our teams.  We were able to transfer and combine these skills to help us forge a strong working partnership able to deliver the best experience for our guests.
What do you do in your spare time?
Explore. One of the many benefits of living in Exmoor is having the great outdoors on our doorstep. Every chance we get we're exploring a new part of the South West, from sections of the coastal path to gorgeous river walks.
Food. We're always looking for great places to eat and we're never disappointed.  If you're a foodie like us, then we think North Devon is definitely one to watch out for.  There are so many excellent cafes, pubs and restaurants in Exmoor, each with their own unique specialties.
Home. Highcliffe keeps us busy on a day-to-day basis looking after guests and keeping the house tip top, but one of our favourite things to do is relax in the garden. That could be weeding, pruning, planting or just enjoying the views with a glass of wine or pot of tea.  The seasons bring such dynamic changes in the flora and fauna, it's absolutely fascinating.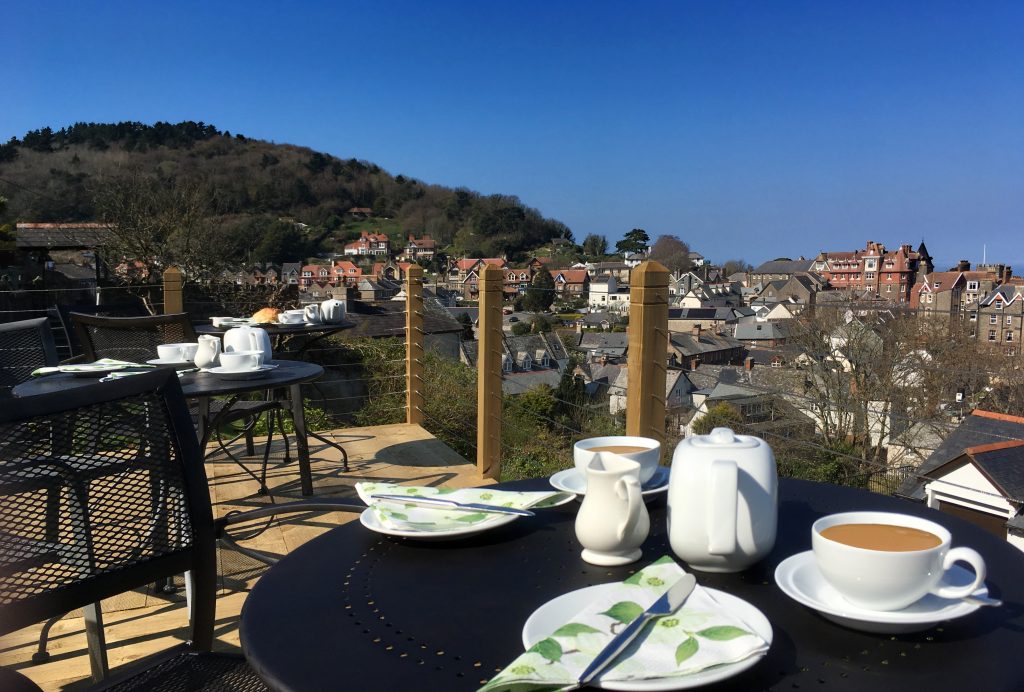 Sum up in three words a stay at Highcliffe House?
Impeccable, Peaceful, Perfect
For more information on Highcliffe House or to make a booking visit highcliffehouse.co.uk